Argan oil has been regarded as the best beauty oil for many years. If you want to care for your skin and hair naturally, this oil is best to make them healthy and lovely-looking again. We gathered top argan oils for your beauty routine. Fall in love with the power of argan!
Hair oil treatment and applying oil on the face skin is very common these days. We like to replace drugstore chemical-laden products with natural substitutes and argan oil has been our top choice for long years.
Argan seeds are used for extracting oil which has a beautiful color and subtle nut aroma. Traditionally, it is extracted manually and hence the high price of original argan oil. Original means oil from Morocco – the homeland of Argan trees giving us genuine argan oil we use during for beauty routines.
Argan oil: ingredients & qualities
It's good to know what's inside argan oil because the nutrient-rich formula is the thing that makes it so popular.
The majority of argan oil is composed of EFAs: essential fatty acids (including omega-3 and omega-6 acids that are the most beneficial). They rebuild the natural lipid layer so argan oil is able to maintain necessary levels of moisture. Besides, it protects against the sunlight and free radicals, which is possible thanks to other components. Natural antioxidants and UV filters guarantee protection. Argan oil holds the highest concentration of vitamin of youth: tocopherol, that is vitamin E – antioxidant with rejuvenating effect. There's more to it, though! Argan oil contains squalene, that is a natural ingredient in human sebum allowing this simple-looking oil to prevent excessively oily skin and restore the pH balance.
Beauty Benefits of Argan Oil
Considering all of the properties, it's no wonder argan oil is growing in popularity. This 100% natural beauty product can be used in many different ways. Everyone will find the suitable one.
Argan oil hair treatment is definitely the most popular. It works best for extremely dry, dull hair which requires repair. You apply it either on damp or dry hair, ideally before shampooing. Because argan oil isn't very greasy, it is a good oil to keep hair ends from splitting, and replaces scalp treatments to nourish the scalp and strengthen the follicles. We cannot forget that this is the only oil which has amazing heat protecting properties so it works great while heat styling.
If not hair, argan oil works well on the skin on the body and face. It nourishes, enhances repair, and restores the even tone and healthy shine to aging complexion. The greatest asset of argan oil is preventing loss of moisture and rejuvenating: when used regularly, it improves skin's elasticity and makes fine lines vanish.
Which argan oil to choose then?
While reading all the rave about argan oil, many people feel they need to get it now. However, you need to know that only high-quality argan oil has a beneficial effect on hair and skin. If you pick a product with scant amounts of argan oil or a blend of many oils, you'll be disappointed.
There are three big questions to be answered while choosing argan oil:
does it come from sustainable crops in Morocco?
is it cold-pressed and unrefined?
is it pure argan oil without any additives?
If you answer "yes" to all of the questions, you've found the best argan oil for beauty and can now use it in plenty of ways worry-free. For all those who don't feel like searching for an ideal, we've got a list feat. top argan oils to make hair, nails and skin healthy again.
7 BEST ARGAN OILS
1. Nanoil Argan Oil (50 ml)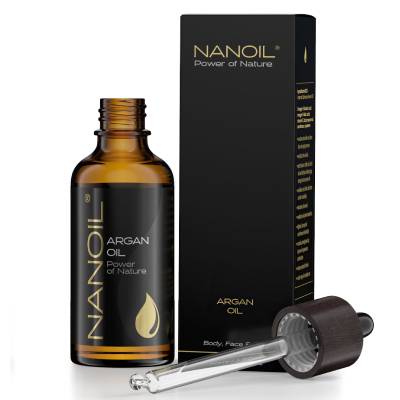 The winner boasts top quality and effects confirmed by both happy users and cosmetologists: cold-pressed, organic, unrefined argan oil from Nanoil. It will stun you as soon as you look at the dark gloss bottle with a wooden cap and goldish elements. Of course what's inside the bottle is what we're interested in: 100% Argania Spinosa Kernel Oil with the Ecocert mark. The product is vegan-friendly and suitable for sensitive skin because the oil is aroma-free and well-absorbed, not leaving a greasy feel. It can be used for daily care without any limitations: on the hair, body, face, nails or lashes. It nourishes and ensures optimal hydration levels, strengthens and revitalizes but mostly focuses on protecting against all factors that speed up the aging process. The reviewers speak with one voice: this is the best argan oil for beauty. If you want to try it, make an order through www.nanoil.us.
2. The Ordinary Argan Oil (30 ml)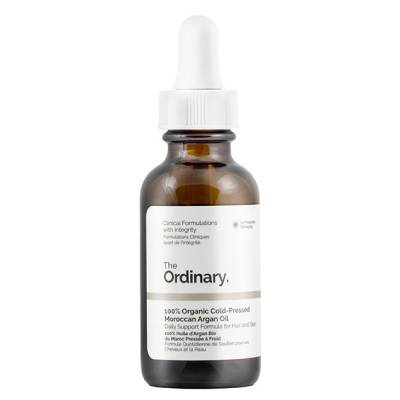 Right behind the top oil, we've got another quality product but it's definitely less popular. It's cold-pressed Moroccan argan oil by The Ordinary, the brand which is known for the face-care products. It's no wonder, then, that this oil is also recommended for face care, especially for dry, sensitive, aging, couperose and combination complexion. Can you use it on hair? The manufacturer doesn't mention its effect on hair or ideas for using it this way but we guess it's worth a try. After all, it is pure argan oil. We wish the bottle was bigger but the brand makes up for it by offering an all-natural product without silicones or alcohols. The Ordinary argan oil moisturizes, repairs and nourishes as well as regulates the functioning of sebum glands so it's good to use it on skin which tends to overproduce oil or get unhealthily shiny.
3. Satin Naturel Argan Oil (100 ml)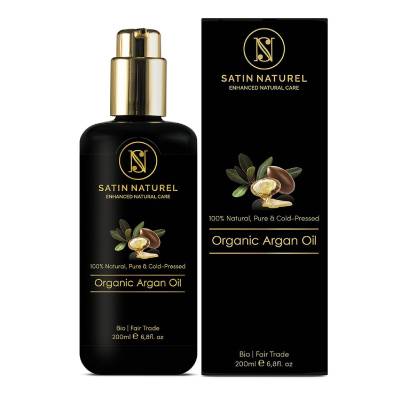 Natural argan nut oil by Satin Naturel deserves to be listed among the most popular argan oils. The products from the German brand are popular among fans of organic cosmetics. An elegant, black bottle is filled with cold-pressed, pure and all-natural argan oil you can use like any other vegetable oil: it is the most beneficial as a hair or face-care oil because it effectively prevents the loss of water, bolsters repair process and preserves youthful look, but feel free to use it for strengthening the nails, for example. This is the end of the benefits because we are sorry to say that the product has some flaws too. A high price is the biggest one. It's one of the most expensive argan oils we came across.
4. Timeless Argan Oil (30 ml)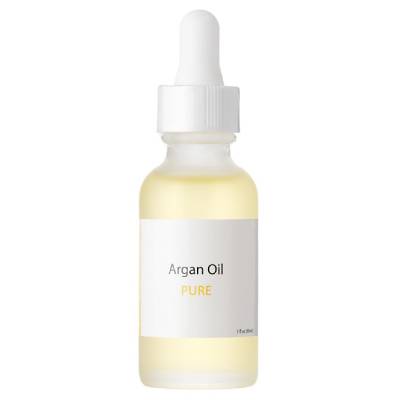 Another oil designed for a natural beauty routine comes from Timeless Skin Care. It comes in a small bottle but it's definitely filled with great ingredients. The frosted glass bottle houses cold-pressed argan oil abounding in vitamin E, unsaturated fatty acids and antioxidants. There's nothing unusual about this product. It's a good quality argan oil that is designed to replace a facial cream. Still, it can be used as a hair oil, for massage or to nourish the nails. It is lightweight, not too greasy, well-absorbed, nourishing, moisturizing and protecting from the first use. In the long run, it may work like anti-wrinkle serum but the effect depends on the predispositions of your skin.
5. Josie Maran Argan Oil (50 ml)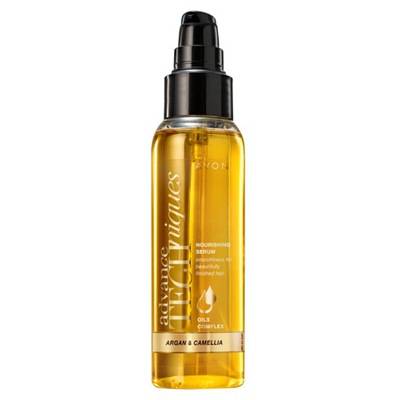 Argan oil by Josie Maran is another good pick for beauty uses. This is 100% pure argan nut oil without any artificial additives like colorants or aromas. In turn it works great for face care and suits even sensitive complexion. Obviously, being a natural oil, it offers other uses, e.g. on damaged and unruly hair to make it stronger and easier to style, on the nails or beard. It works like a typical argan oil: moisturizes, nourishes, and revitalizes. To get good effects, the oil needs to be applied regularly and mixed with other oils because it's quite thick.
6. Nutridome Argan Oil (50 ml)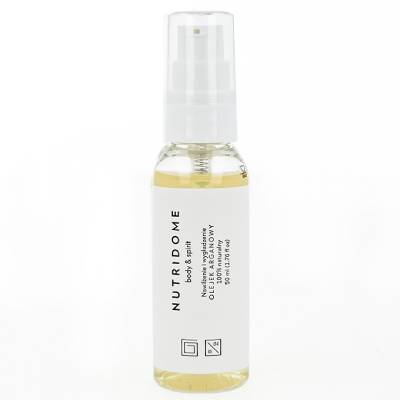 Nutridome offers a good argan oil too. It isn't a best-seller but it's definitely noteworthy because it has many beauty uses. Nutridome oil comes in a minimalist, light-colored bottle and it's original natural argan oil without any synthetics; it has a golden color and naturally smells of nuts. It isn't just a good addition to cosmetics: feel free to use it alone as a hair oil, skin enhancer or nail strengthener. It reinforces the natural protective mantle, moisturizes, nourishes, and enhances hair growth. The effects take quite a lot of time to appear, though.
7. Mokosh Argan Oil (100 ml)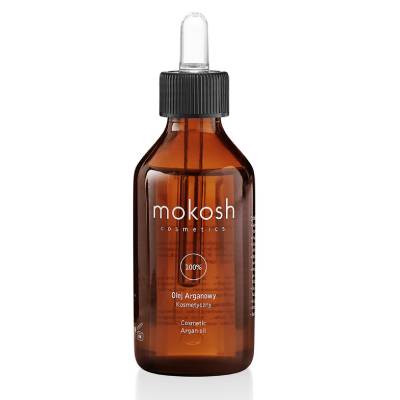 Finally, argan oil from a brand which has been set up to infuse the gifts of Mother Nature into beauty products. Even though it isn't a best-seller, it's definitely worth attention. The dark glass bottle holds natural, cold-pressed and organic argan oil. 100% nature captured in a bottle with a convenient pump applicator to easily enhance the beauty. The Mokosh Argan Oil can be used for massage, bath and daily care. It has a nourishing effect, ramps up moisture levels, and protects against free radicals and the sunlight. Because it's natural, it works well on hair, body and face. We like the big bottle and the fact that the oil is lightweight but the high price is surely discouraging.