Stand out from the crowd with Nanobrow Eyebrow Pomade!
Want to be trendy? Are you always trying to know about the latest trends? We've got something extra for you! Nanobrow Eyebrow Pomade gains more popularity each day. Find out why!
Nanobrow Eyebrow Pomade is an incredible cosmetic dedicated to brow styling that will help you create your desired shape. You will camouflage gaps easily and fill in your eyebrow arch with a beautiful, natural colour.
Nanobrow Eyebrow Pomade – your own personal brow stylist
This is the product that you've been looking for if you care about full and natural eyebrows at the same time. It's widely used in professional photo shoots for fashion magazines.
Nanobrow Eyebrow Pomade:
➜ help shape your eyebrows perfectly,
➜ has an excellent consistency,
➜ is water-resistant,
➜ available in three colours,
➜ is very fashionable.
Say goodbye to thin and patchy brows. Starting today, they will become beautiful, aesthetic and naturally shiny. The water-resistant formula and three refined shades deliver long-lasting effects and keep the hairs locked in place for 24 hours.
Nanobrow Eyebrow Pomade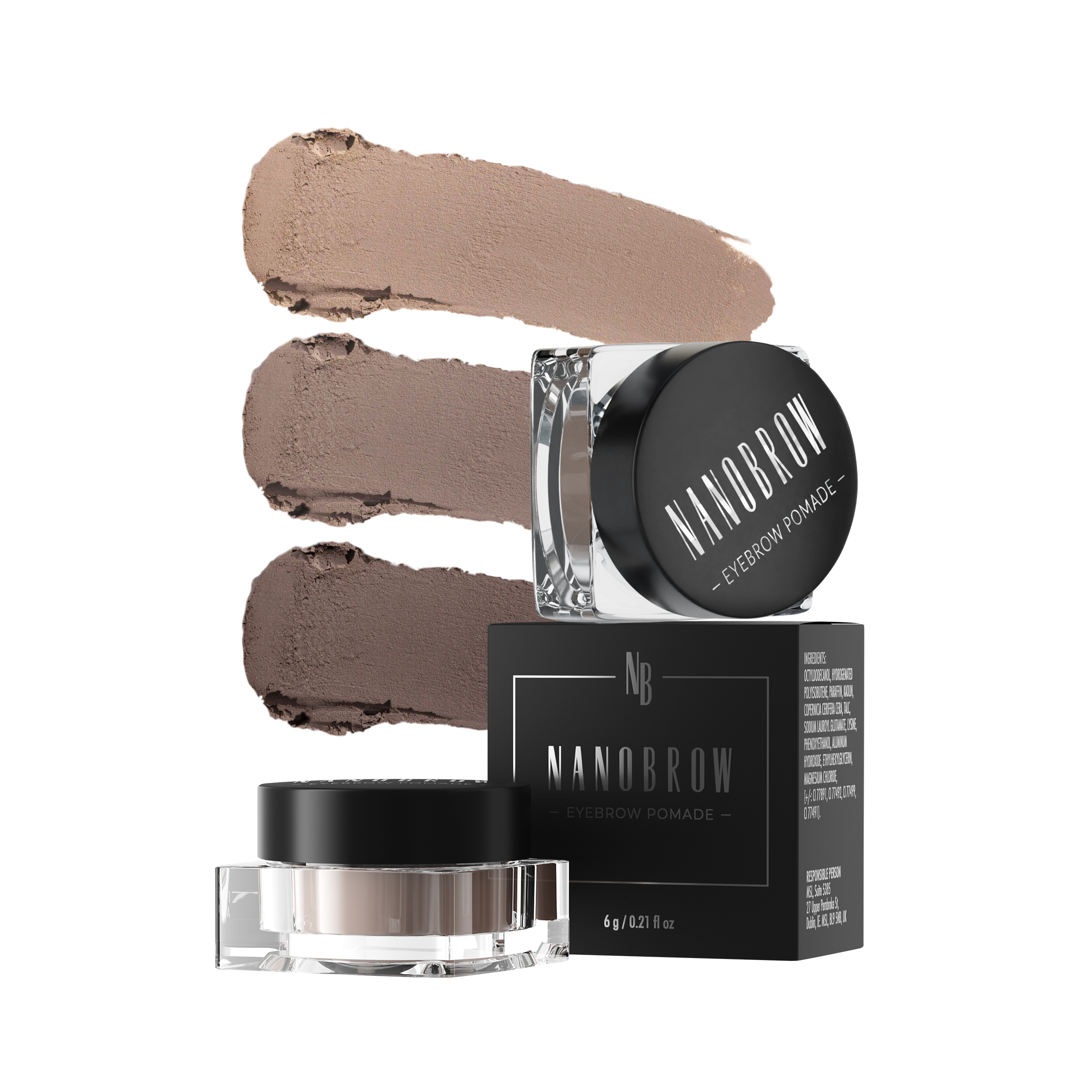 It's available in shades:
Style your eyebrows however you want! You can add layers, apply more colour and do whatever you feel like! Create a professional look for a business meeting or lightly define the brows for everyday makeup. They will always look perfect!
Flawless brows with Nanobrow Eyebrow Pomade
The brow pomade is the best way to add extra definition to light, unruly hairs. You can overdraw your brows, visually thickening them. Thanks to this product you will create a natural effect without exaggeration. The key is to match the colour of the pomade to your real hairs and spread the pomade evenly which should be manageable even for beginners.
Apply a small amount of the pomade onto a brush and overline your brow.
Fill in the brow with colour.
Comb out the excess if you prefer a softer effect.
Wyświetl ten post na Instagramie
No more invisible eyebrows!
Nanobrow Eyebrow Pomade is extremely easy to use. Your eyebrows will be flawless every day. You will fill in any gaps quickly and draw thin lines that mimic real hairs. It's also possible to redefine your eyebrow arch and shape it the way you want.
The innovative formula of the cosmetic applies easily, delivering spectacular results. Both everyday and evening makeup looks can be created. The pomade is thick and gives maximum comfort of use. The texture is malleable and long-lasting at the same time, allowing you to add more layers and create unique makeup looks.
Trust thousands of opinions
Nanobrow Eyebrow Pomade is a best-seller, receiving positive feedback from consumers and makeup artists. It lets compose various makeup looks and make arches precise and excellent. Would you like to try something new? Nanobrow Eyebrow Pomade is a perfect product!
Flawless, ideally-styled brows every day? Do you need a durable cosmetic that will survive all day long? Nanobrow Eyebrow Pomade is a guarantee of a new, pleasant experience when it comes to brow makeup.
It doesn't have to be tedious or boring! This product will make you your own personal brow stylist. Switch between techniques, combine different shades and try out remarkable high-end cosmetics from the Nanobrow line!