Ayurveda is an ancient healing practice with its beginnings in India. It uses the power of natural ingredients and cosmetics. What is more, it is being practising to this day. More and more women what to know the secret of Ayurveda. See for yourself, what is that you can gain thanks to plants, herbs and fruits.
In Ayurveda it is believed that the balance between the body, mind and spirit can provide health, beautiful appearance and happiness. You have to remember that Ayurveda is not one of the fields in medicine, but a knowledge about life (that is also how its name is being translated). For Indians, the most important in body care is cleanse and nourishment of skin as well as treatments for improvement of blood circulation, massages and dry brushing of the body. To all of those treatments are used natural ingredients obtained from plants.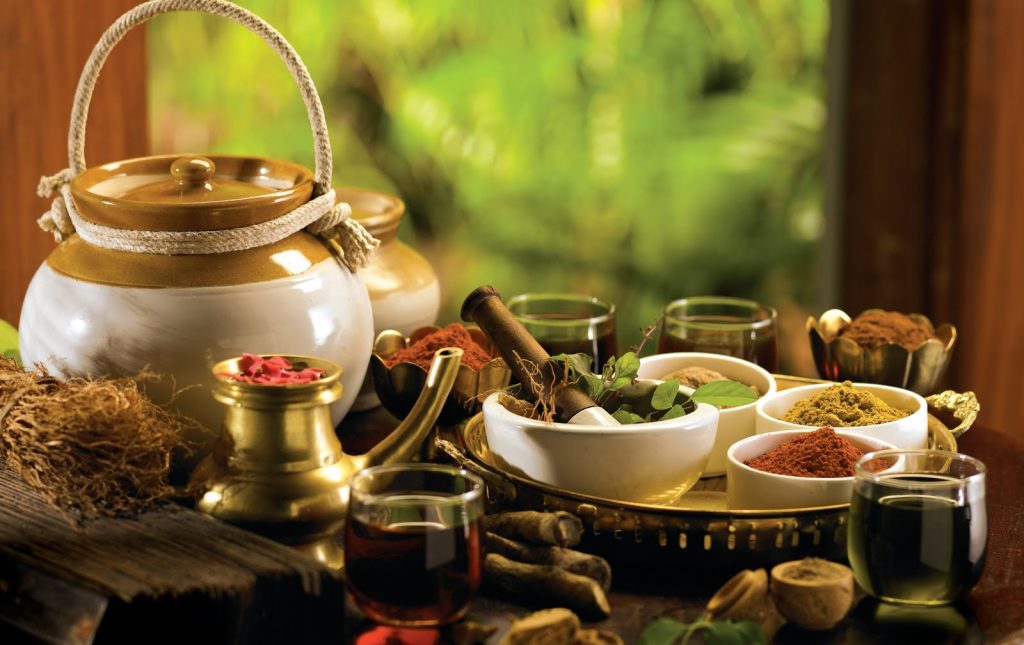 In Ayurveda really important are natural oils. They are meant to moisturise and condition both skin and hair. They are great in the massage for improvement of mood and removing toxins. Natural oils are base for cosmetics with addition of herbs or vitamins. In Ayurveda are being used following oils: coconut, sesame, almond, rose and tea seed. First of them, coconut oil, consists of regenerative and moisturising properties. It protects skin against UV radiation, helps with acne and fatigue, but also makes hair elastic. Sesame oil limits sebum secretion, stimulates blood circulation and ensures hair with volume and gloss. It is a perfect cosmetic for massage – it warms up and removes toxins. In aromatherapy is used almond oil. It has very pleasing scent; smoothers and takes care of even sensitive and delicate skin of body and face. Rose oil has antiseptic and antibacterial properties. It soothes inflammations, irritations caused by sun and limits acne. Similar properties has tea seed oil.
Spices and vegetable extracts are also used in Ayurveda. We can enumerate: Amla, Neem, Aloe extract, curcuma, lotus flower extract and cinnamon. Amla is an Indian gooseberry. It is a plant rich in vitamin C and natural antioxidants. It prevents free radicals, makes skin complexion even, regulates work of sebaceous glands and stimulates hair growth. Neem eliminates dandruff, reduces imperfections and limits greasing of face. Aloe extract calms irritations, moisturises and makes skin elastic. Lotus flower extract moisturises, nourishes and lightens discolourations. Curcuma flattens wrinkles, reduces acne and deeply moisturises, while cinnamon restores skin with fresh and radiant appearance.