The biggest skin care hit – NANOIL Castor Oil
What is the most popular natural oil in the world? It's obviously castor oil. Known and used for years by our grandmothers and great-grandmothers, it is currently experiencing its renaissance. It's a champion of multi-tasking skin care, as it works equally well in hair, brow, or lash care. Despite its thickness, it's suitable even for facial cleansing. It strengthens and regenerates the skin, prevents moisture loss, smooths and boosts shine.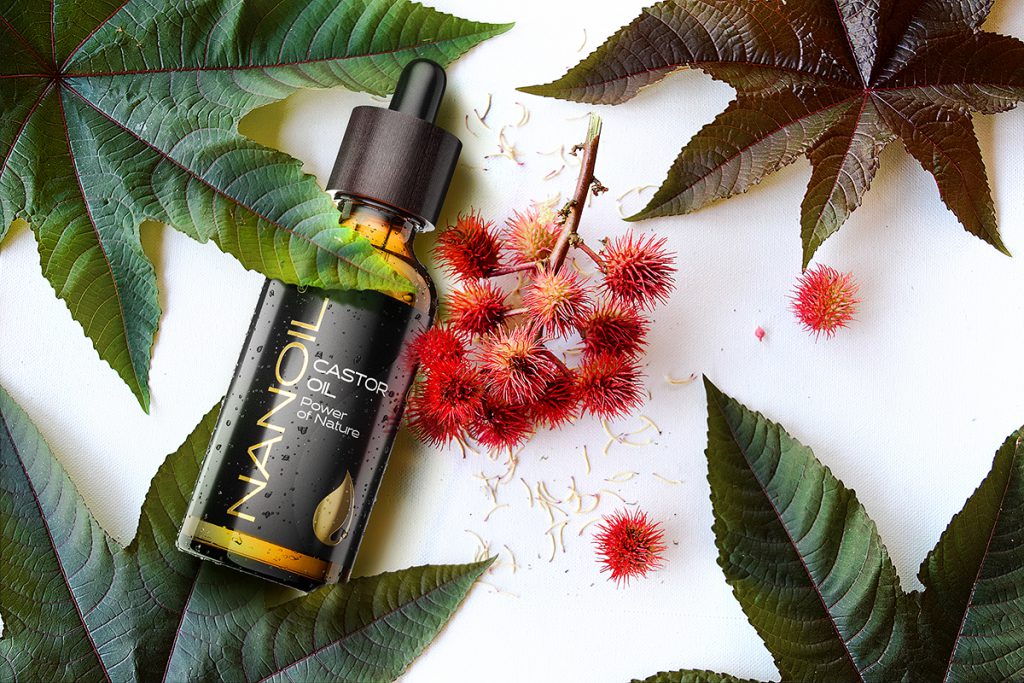 Nanoil Castor Oil guarantees the highest quality certified by Ecocert. It is a 100% organic, unrefined, cold-pressed product. Thanks to this, each drop of this precious cosmetic contains the essence of what's best in the red castor seeds.
What does castor oil contain?
90% of castor oil is made up of an organic fatty acid – ricinoleic acid, which can't be found in any other oil. It contains omega acids, valuable minerals, and vitamins A and E. Castor oil resembles human keratin, which is why it can penetrate the deepest skin layers and stimulate skin cells to regenerate.
Castor oil benefits
Consumers value the miraculous effects of castor oil. It is no longer used as it used to be as a laxative or a remedy for hair loss. Nowadays it's a way to achieve beautiful, firm skin without stretch marks or cellulite, and long, thick, and nourished lashes and brows. So what makes it the best?
it has antibacterial and antifungal properties,
it stimulates the growth of hair, brows, and lashes,
it has cleansing properties,
it nourishes, strengthens, and regenerates the skin,
it lubricates the skin and maintains a proper level of hydration,
it protects the skin against damage,
it subtly darkens the hair.
Castor oil uses
Its versatile properties mean that you can use it in many ways and each one of them will work well.
+ FOR YOUR HAIR
It strengthens and regenerates hair and also encourages hair growth. It prevents excessive thinning, eliminating, at the same time, the risk of baldness. It provides the locks and scalp with the optimal level of hydration so that the hair can grow healthy, shiny, and strong. Regular application of castor oil to the ends can prevent them from splitting.
+ FOR YOUR BROWS AND LASHES
Castor oil isn't only an irreplaceable remedy for hair problems. It also encourages the growth of brows and lashes, and gently darkens them. It thickens and lengthens them, also adding volume. It is a natural conditioner for brows and lashes, boosting shine and making them more elastic and stronger.
+ FOR YOUR BODY
Due to its high density, castor oil is rarely applied to the entire body. However, you can mix it with other oils, like argan oil, or with some water, and massage it into the orange peel skin and stretch marks. By soaking your hands in warm castor oil, you can prevent your nails from dryness, splitting, and breaking. The oil softens the hands and cuticles.
+ FOR YOUR SKIN
The oil has antibacterial and antifungal properties, so it works well in face cleansing. Mix it with a different oil or some water to remove makeup, dust, sebum, and other impurities. Use a small amount of oil, then rinse your face with warm water.

Nanoil Castor Oil reviews: 
"A great natural product my eyelashes and hair love! I recommend it" – Weronika, 24

"I've been using it for a long time on my lashes and nails. Finally, I stopped having problems with weak nails, and my eyelashes look better than false ones. I love it!" – Ania, 24

"This is my 3rd, and certainly not the last bottle. I use it to strengthen my eyebrows and eyelashes, and I apply it to my  ends" – Madzia, 26
Natural oils complement each other and create excellent blends enriched with additional minerals, vitamins, and valuable fatty acids. The Nanoil brand offers a range of natural oils to provide you with precise, perfect, and natural skin care. Create homemade cosmetics and combine different oils for your OCM mixtures.
Don't hesitate and order yours today! Take your skin care to the next level with Nanoil. Enter the official website – nanoil.us