Vitamin C proves to be the most thoroughly tested skin care ingredient. It remains unrivalled considering its effect on skin. It's been used in cosmetology for over 30 years yet its most powerful form has been discovered recently. See the best products featuring vitamin C: TOP 5 face serums!
VITAMIN C BRINGS PLENTY OF BENEFITS FOR SKIN
It is still one of the strongest antioxidants – it protects our cells from oxidative stress and prevents DNA damage.
It has anti-inflammatory properties – it minimizes inflammation, soothing the skin and preventing acne. It holds back comedones both in adolescents and adults.
It enhances synthesis of collagen – vitamin C is most effective in bio-synthesis of type I and III collagen, and additionally prevents dissolution of collagen fibers.
It protects against UV – it is an extremely potent antioxidant which fights off free radicals caused by UV radiation. Vitamin C is one of very few cosmetics ingredients that intensify the protective effect of SPF-rich products.
It brightens complexion and lessens dark spots – it normalizes the production of skin pigment, that is melanin.
It reinforces blood vessels – it reduces redness and makes broken capillaries less noticeable.
ONE VITAMIN, MANY TYPES – WHICH ONE TO CHOOSE?
Ascorbic acid is pure and natural form of vitamin C. Unfortunately, it is very unstable, not soluble in water, and prone to oxidation, meaning it loses its properties fast and is ineffective. The oxygen, light or temperature over 40 Celcius degrees is what makes it lose its power, which was the spark for stabilizing vitamin C. Now, we've got many vitamin C derivatives. The best ones are soluble not just in water but also in oils. Obviously, they are resistant to oxidation, plus penetrate the skin more deeply and easily.
REMEMBER!

No matter which form of vitamin C is included in a cosmetic, the manufacturers always use the name vitamin C so you should remember that the effectiveness depends on the type and stability of vitamin C in your cream or serum.

In other words, merely adding vitamin C to a product doesn't bring benefits if it is not stabilized. Even a high concentration of vitamin C is oxidized fast if you don't choose a suitable type of it.
DIFFERENT TYPES OF VITAMIN C IN SKIN CARE PRODUCTS
Ascorbic acid – unmodified, pure, very unstable form of vitamin C
Ascorbyl Tetraisopalmitate – oil-soluble, effective, highly stable vitamin C derivative, resistant to high temperature and light
3-O Ethyl Ascorbic Acid – perfectly-working, stabilized vitamin C, lightweight and fully absorbed, one of the best types of vitamin C on the market
Sodium Ascorbyl Phosphate – mild form, the least effective, recommended to use during pregnancy or acne treatment
WHAT DOES EFFECTIVENESS OF VITAMIN C DEPEND ON?
Apart from the forms of vitamin C mentioned above, the concentration of the vitamin as well as a type of product that it is infused into matter as well. Facial serum is an ideal carrier for vitamin C because it is designed to reach the innermost layers of the skin and work more intensively than a cream. Ideally, vitamin C should be a major or only ingredient in your cosmetic so nothing keeps it from working at full steam. Below we rounded up the best-selling vitamin C face serums. Check the ones featuring its best type.
VITAMIN C FACE SERUMS – TOP 5 CUSTOMER PICKS
1. NANOIL VITAMIN C FACE SERUM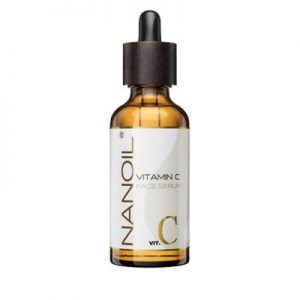 Age: 25+, 30+, 35+, 40+, 50+, 60+, 70+
Volume: 50 ml
The best facial serum! Perfectly-working, stabilized vitamin C brings amazing benefits – this is what users say! The Nanoil Serum makes the face look radiant, rested, and smooth. There's no sticky feel on the skin because it's fully absorbed. Ethyl ascorbic acid gets inside the dermis to improve the condition of skin, defy aging, lessen pigmentation marks, and give even skin tone. Nanoil is an essential step of everyday skin care for young and mature complexions. The price seems a great deal for the brilliant ingredients, top quality, and bottle size. More info on the serum can be found at www.nanoil.us.
2. PAULA'S CHOICE RESIST C FACE SERUM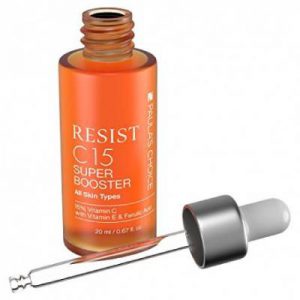 Age: 30+, 35+, 40+, 50+
Volume: 20 ml
This popular and frequently-reviewed facial serum gives an intensive conditioning boost. 15% vitamin C, vitamin E, ferulic acid and peptides are a recipe for radiant and well-taken-care-of complexion. Because the serum contains unstable ascorbic acid, it doesn't give "wow" effects like other types do, but undeniably it has a good effect on the skin. Paula's Choice Serum maintains optimal levels of hydration thanks to a formula enriched with hyaluronic acid.
3. SESDERMA C-VIT FACE SERUM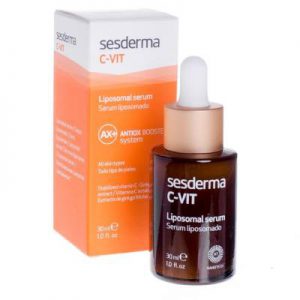 Age: 35+, 40+, 50+, 60+, 70+
Volume: 30 ml
Serum by Sesderma contains an effective form of vitamin C but it costs too much plus comes in a small bottle. Considering the effects, the product is quite oily so it works best on dry complexions that need moisture and protection against external aggressors. If you put it on oily or combination skin, do it in the evening and wash the face in the morning to get rid of the greasy feel. The serum definitely improves the skin and is rich in stabilized vitamin C. It gifts the skin with vitamin C and other antioxidants on a daily basis. It also nourishes delicate couperose skin.
4. IT'S SKIN POWER 10 FORMULA VC FACE SERUM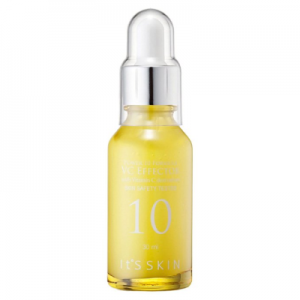 Age: 25+, 35+, 40+, 50+
Volume: 30 ml
Lightweight gel serum by Korean brand is best to use on skin in your 20s and 30s. It is made from a stabilized type of vitamin C, Ascorbyl Tetraisopalmitate. Regular application of It's Skin Power 10 Formula VC keeps the complexion rested and healthy. Are you cramming for exams, pulling all-nighters or struggling after a party? This vitamin C serum remedies tired skin giving it an energy boost. Green tea extract and vitamin C are potent antioxidants which support tired complexion. Used for a long time the serum can improve the skin, make it even-toned and optimally moisturized.
5. DRUNK ELEPHANT C-FIRMA DAY SERUM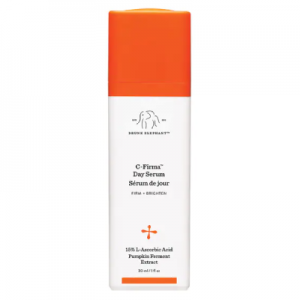 Age: 35+, 40+, 50+, 60+, 70+
Volume: 30 ml
This intensive day face serum is packed with antioxidants, essential nutrients and fruit enzymes that complement each other to visibly brighten the skin, plump the face, and wipe off the signs of photoaging. Ascorbic acid (not stable), ferulic acid and vitamin aren't the only components worth noting. The Drunk Elephant Serum contains Chronocyclin (peptide which inhibits oxidation), Pumpkin Ferment Extract and Sodium Hyaluronate Crosspolymer which moisturize and soothe the skin, also sensitive complexion. The serum gets good reviews because it abounds in antioxidants, shields from toxins and car fumes, evens out the skin tone, and tightens the face.
BIG QUESTIONS ABOUT FACIAL SERUM
IS USING FACE SERUM WORTHWHILE?
This product makes a good choice as early as in your 20s but it becomes a must once you turn 35. Remember that a face cream or moisturizer works on the skin's surface while serum gives an intensive effect: it gets into the innermost layers and has the power to really change the skin. However, this doesn't mean you can give up on a cream – each skin care product has a role to play.
HOW TO USE FACE SERUM?
This depends on a product you buy but generally serums can be used even twice a day. Some products have high concentrations of ingredients and should be applied only two or three times a week. You get great results from products you can use every day, for example during the nighttime routine when the skin repair process kickstarts. Remember to fully wash the face and use a toner first. 3-4 drops will do for the entire face. Apply a thin layer of moisturizer to seal the serum.
CAN YOU USE FACE SERUM IN THE SUMMER?
Most skin care products can be used in the summertime. Serum is one of them. Ideally pair it with SPF moisturizer. As we said, vitamin C serum makes sun protection factor work better so it is a perfect summer pick!
IS IT TRUE THAT SERUM WORKS ONLY FOR AGING SKIN?
Face serum can fix lots of skin problems, not just ones affecting aging skins. Post-sun spots, red patches, post-acne marks – well-suited serum is a remedy for each of the gripes. Remember the fact that the levels of collagen and elastin start dropping in our 20s so replenishing them with a good serum pays off because it delays aging. A fine-quality serum used early enough can hold wrinkles back.